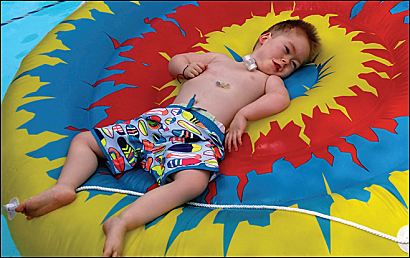 Nolan's Story
Nolan's doctors noticed there was something wrong the moment he was born. His weakness at birth was so profound that it took Nolan several weeks to even open his eyes or move a finger.
About Nolan
Nolan spent the first two months of his life in the hospital. Mandy, Nolan's mother, recalled grieving for the loss of the typical mother-newborn bonding experience, as she was unable to take Nolan home to simply "cuddle on the couch."
Nolan is a young boy who is affected with an RYR-1-related disease. Although Nolan's strength has improved somewhat since birth, he currently cannot sit independently, lift his head, eat, or clear his oral secretions. This puts him at risk for numerous medical complications, including life-threatening infections.
When Nolan's parents learned of the RYR-1 Foundation, they were shocked that an organization existed specifically to help individuals with Nolan's rare disease. When asked about the RYR-1 Foundation's mission to support research for RYR-1-related diseases, Mandy said, "It is everything–the most important thing. If we only get one thing in life, it would be to have a treatment or a cure for Nolan."
Eager to accelerate the pace of research, Lindsey, Nolan's aunt, organized a fundraiser, "Hike for Team Nolan," which raised over $11,000 for the RYR-1 Foundation. In reference to the RYR-1 Foundation and the "Hike for Team Nolan," Mandy says, "When we got Nolan's diagnosis, we never dreamed that a cure was even possible. Recent developments in gene therapy make us believe that it is more than possible, and we are hopeful that through the work of the RYR-1 Foundation, Nolan will someday be able to complete this hike alongside his Aunt Lindsey."
Watch "Nolan's Story!"