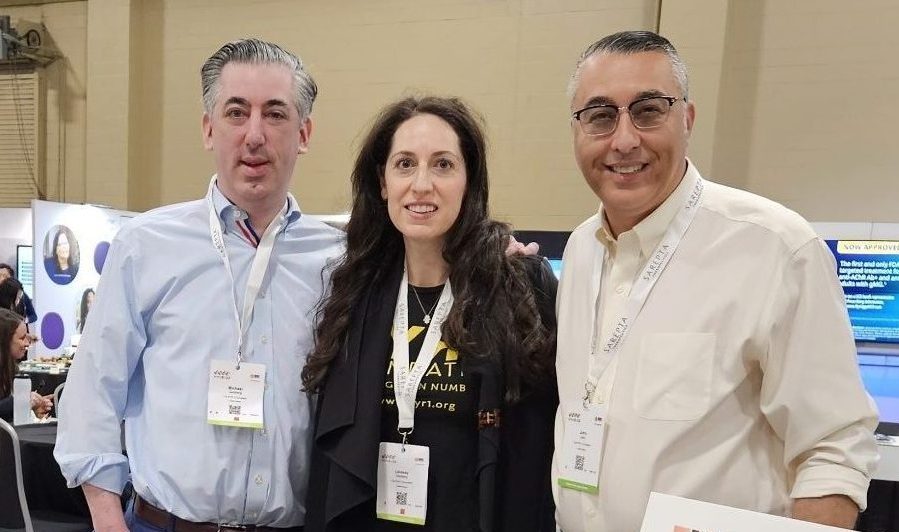 The RYR-1 Foundation Co-Sponsors World Muscle Society Congress
We are proud to announce that The RYR-1 Foundation was one of the co-sponsors of the 28th International Annual Congress of the World Muscle Society (WMS) that took place from October 3–7, 2023, in Charleston, South Carolina. This was a remarkable event that brought together more than 1,000 scientists and healthcare professionals from over 50 countries to share their knowledge and expertise on neuromuscular diseases. Attending this international conference from The RYR-1 Foundation were Dr. Mike Goldberg, Co-Founder and Board President; Lindsay Goldberg, Co-Founder and Business Manager/Patient Liaison; and John Gallo, Executive Director.
As a co-sponsor, we were able to showcase our work and mission to a global audience and raise awareness for RYR-1-related diseases
 (RYR-1-RD). This included having a booth in the Exhibit Hall, which marked the first-time charitable, nonprofit, patient advocacy organizations were allowed to exhibit. We were able to display our brochures and other materials pertaining to RYR-1-RD,
and John Gallo, Executive Director, engaged with many attendees who visited our booth and expressed their interest and support for our
cause to enhance RYR-1-RD via patient outreach and research. Furthermore, Lindsay Goldberg, Patient Liaison, also shared stories and experiences from the perspectives of affected individuals, caregivers, and advocates. It was encouraging to see that many people were eager to learn more about The RYR-1 Foundation and RYR-1-RD, and Lindsay talked to several who would like to join our community as potential providers as she also raised awareness of our Clinical Care Guidelines booklet. Lastly, Mike had the opportunity to talk with other advocacy organizations as well as researchers and leaders of the biotech industry on how to attract more interest in RYR-1-RD re
search and therapeutic development.
We also attended the poster presentations that were relevant to RYR-1-RD. This included two presentations that were co-authored by Dr. Mike Goldberg, and one presentation that was funded by The RYR-1 Foundation. Overall, we were impressed by the quality and diversity of the research projects and the collaborations between different institutions and countries. In addition, we had the opportunity to meet with some of the researchers who have received grant funding from The RYR-1 Foundation and express our gratitude for their valuable contributions to the field.
One of the highlights of the WMS Congress was the dinner The RYR-1 Foundation sponsored for members of our Scientific Advisory Board (SAB) and other clinicians we collaborate with. At this dinner were some of the leaders in the field of neuromuscular diseases, including Drs. Carsten Bönnemann, Alan Beggs, and Heinz Jungbluth. In addition, a member of the Board of Advisors, Brentney Simon, who resides in the Charleston area, was also able to join us.  These dedicated researchers and professionals from all around the world are deeply committed to advancing the work we do.
Lastly, Lindsay and Mike Goldberg had dinner with Drs. Angela and Monkol Lek. Dr. Monkol Lek is Assistant Professor of Genetics at Yale University School of Medicine and Dr. Angela Lek is Vice President of Research at the Muscular Dystrophy Association (MDA), and this dinner was an invaluable opportunity to discuss ways in which the MDA and The RYR-1 Foundation can work together to accelerate research and advance care as well as learning about new technologies to potentially cure/treat neuromuscular diseases.
We are very thankful for the many new connections we have made, for conversations with new potential providers, and for the future opportunities that await! 
The RYR-1 Foundation Staff interacting with genetic counselor Livija Medne (SAB member)

Lindsay Goldberg and Dr. Mike Goldberg interacting with healthcare providers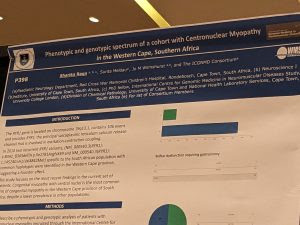 "A poster presentation that was based on a research grant that The RYR-1 Foundation funded."

Members of The RYR-1 Foundation team, SAB, Board of Advisors, and other researchers and clinicians

Dr. Mike Goldberg with Advisor, Brentney Simon, and her family
Drs. Angela & Monkol Lek at dinner with Lindsay Goldberg and Dr. Mike Goldberg
Dr. Heinz Jungbluth with Dr. Mike Goldberg
Dr. Mike Goldberg with Dr. Carsten G. Bönnemann (SAB member) & Dr. Heinz Jungbluth
Lindsay Goldberg, Dr. Mike Goldberg,  Erin and Mark Ward (MTM-CNM Family Connection), and Dr. Nicol C. Voermans (SAB member)