The RYR-1 Foundation and Rycals
Right: 3D Schematic of the Ryanodine Receptor (photo credit: "A drug and ATP binding site in type 1 ryanodine
receptor")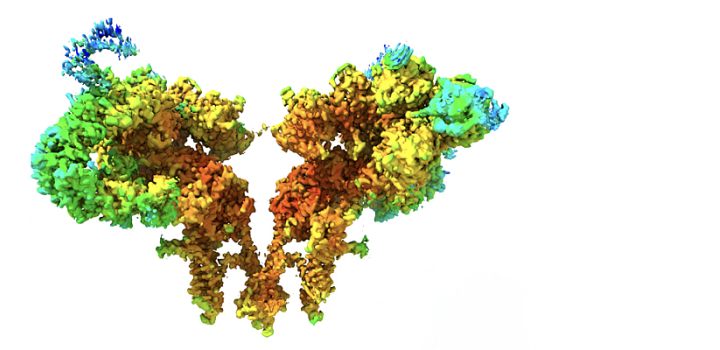 As you may be aware, Rycals are a class of drugs that have shown potential benefits in treating patients with RYR-1 muscle disease. Rycals received "Orphan Drug Designation" by the FDA in August 2018.
We are proud that The RYR-1 Foundation played an important part in the advancement of Rycals. 
First, in 2016, The RYR-1 Foundation awarded a research grant that evaluated the effect of Rycals on muscle biopsy samples taken from individuals with RYR-1 muscle disease. This study in the laboratory showed that Rycals reversed muscle damage and improved the muscle function in those human samples. The paper summarizing this study can be found below:
In addition, this research was also the basis for the receipt of a "Bench to Bedside Award" from the NIH. The NIH grant of $150,000 helped defray costs of the human clinical trial.
The human clinical trial at NIH (https://clinicaltrials.gov/ct2/show/NCT04141670) just concluded. Were it not for The RYR-1 Foundation's advocacy, this trial may never have occurred. Specifically, in late 2018, The RYR-1 Foundation was informed that the NIH trial for Rycals was at risk of being permanently terminated. Working closely with the Rycal vendor and our contacts at NIH, we immediately initiated a phone call and letter-writing campaign, ultimately soliciting the invaluable assistance of members of the United States Senate and House of Representatives. It is clear that were it not for the successful advocacy efforts of The RYR-1 Foundation, this trial would not have commenced in a timely fashion.
In summary, the initial grant from The RYR-1 Foundation has led to three major achievements:
Discovery of a new potential treatment for RYR-1-related diseases
Initiation of a human clinical trial
Receipt of an NIH grant
The source for the "3D Schematic of the Ryanodine Receptor" graphic can be found below:
---
This clinical trial demonstrated that this drug was well-tolerated by the trial participants, with no report of serious adverse events. There is also early and preliminary evidence that some subjects demonstrated increased strength while on the drug. In hopes of confirming this, early enrollees in the trial, who received a low dose of the drug, returned to the NIH to receive a higher dose. The trial has now concluded, and results were presented at the annual meeting of the World Muscle Society in October 2022. Following the conclusion of the clinical trial, a Dutch venture capital firm, Forbion, invested $35 million in ARMGO. To read the press release, please click HERE.