"For so many years I felt alone, and no one understood me and how I feel about my daughter being affected, too. We are so blessed and thankful for The RYR-1 Foundation. I have hope that there will be a breakthrough because of The RYR-1 Foundation." –A.M., Affected mother with an affected daughter
"My son and I are so blessed to know that this foundation exists, and that there are people out there trying to find a cure for RYR-1." –A.E., Parent of affected child
These two quotations portray the positive effect that The RYR-1 Foundation has had on hundreds of individuals and families affected by RYR-1-related diseases, a group of congenital diseases causing muscle weakness with different degrees of disability. It is currently untreatable.
The RYR-1 Foundation can cite a wide range of accomplishments in its brief two years of existence. These include:
Research: The RYR-1 Foundation has awarded four research grants, representing a commitment of approximately $300,000. In less than a year, the research the Foundation has supported has led to greater insights into the mechanisms of RYR-1-related diseases and the identification of potential therapies.
Scientific Meetings: Scientific meetings are critically important for the advancement of research. Due to the rarity of RYR-1-related diseases, there had been no regularly scheduled meetings devoted to this condition. In response, The RYR-1 Foundation funded a three day RYR-1 workshop this past Winter in the Netherlands, which included some of the world's leading authorities in muscle disease. The Foundation also held a scientific meeting in Baltimore in July 2016, and another is scheduled for December 2016 in New York City. We have also provided funding to other scientific organizations, such as the Gordon Research Conference and the International Congress of Neuromuscular Disease, that hold meetings covering topics relevant to RYR-1-related diseases.
Individual/Family Outreach: This summer, the Foundation hosted the first ever RYR-1 International Family Conference in Baltimore. This was a huge success. For this 2.5 day event, there were over 210 attendees, representing 75 affected families from 25 states and six countries. For many attendees, this was the first opportunity to meet someone else with their rare condition. It was also the first chance for most people to hear lectures and discuss their condition with some of the world's leading experts in RYR-1. Total cost for this invaluable conference was over $100,000, which was provided by a concerned benefactor.
Affiliations with Related Organizations: In order to maximize our impact on the RYR-1 community, The RYR-1 Foundation has partnered with several other organizations, including the Muscular Dystrophy Association (MDA), AFM-Telethon (the most important muscular dystrophy association in Europe), Cure CMD, the National Organization of Rare Diseases (NORD), and the European Neuromuscular Centre (ENMC).
Education: The RYR-1 Foundation provides educational resources, primarily through our website, to assist both medical and non-medical audiences. For undiagnosed and recently diagnosed individuals/families, the lack of easily accessible information had previously been a source of confusion and anxiety.
Despite our success, I know that much work needs to be done. I look forward to working with members of the RYR-1 community to achieve even greater levels of success in 2017.
With sincere gratitude,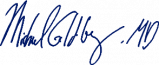 Michael F. Goldberg, MD, MPH
President, Co-Chair of Research, & Co-Founder
The RYR-1 Foundation
P.S. Our extraordinary history is vividly portrayed in "The RYR-1 Foundation Documentary", which you can find here:
www.ryr1.org/documentary. We strongly encourage you to view it.