"Your foundation is a blessing to us all; please know you are appreciated!" – H.G., mother of affected child
"I am so thankful for you and your family and all of the amazing connections you have been able to make over the past few years. You are making a huge difference, and it matters." – E.P., mother of affected child
The above quotations portray the positive effect that The RYR-1 Foundation has had on hundreds of individuals and families affected by RYR-1-related diseases, a group of congenital diseases causing muscle impairment with different degrees of disability. Unfortunately, as of now, there are no treatments for this rare myopathy.
Due to the support of many generous donors and the hard work of many volunteers, The RYR-1 Foundation can cite a wide range of accomplishments in its brief three years of existence. These include:
Research: The RYR-1 Foundation has awarded nine research grants to outstanding scientists in the United States, Canada, and Australia, representing a commitment of over $835,000. These grants were awarded after a competitive review process and are reviewed every six months by our Scientific Advisory Board. In less than three years, the research supported by the Foundation has led to important advances in the field. I am particularly proud of a research grant awarded to Dr. Andrew R. Marks of Columbia University and Dr. Katherine Meilleur at NIH that has provided the scientific justification for a human clinical drug trial, which I am hopeful will begin in 2018.
Sponsored Conferences: Scientific meetings are critically important for the advancement of research. Due to the rarity of RYR-1-related diseases and the absence of any pre-existing support group, there had been no regularly scheduled meetings solely devoted to this condition. In response, The RYR-1 Foundation has provided funding for numerous conferences that address RYR-1-related diseases. Most recently, The RYR-1 Foundation was a co-sponsor of the annual meeting of the World Muscle Society in Saint Malo, France in October 2017.
Raising Awareness in the Medical Community: Part of the mission of The RYR-1 Foundation is to help educate physicians about this rare condition. To this end, I gave a talk at the Annual Meeting of the Malignant Hyperthermia Association of the United States (MHAUS) in September 2017. In addition, I gave an invited grand rounds lecture at the Allegheny Health Network in October 2017 on the role of the ryanodine receptor in cerebrovascular disease.
Scientific Meetings: We completed a one day scientific meeting on December 4, 2017 in Pittsburgh in which all of our funded researchers presented their current data. These meetings serve several purposes: 1) to disseminate new knowledge to leaders in the field of RYR-1; 2) to provide a forum for funded researchers to receive critical reviews and suggestions for improvements; and 3) to allow The RYR-1 Foundation to assess the quality of the research and make a determination regarding continuation of funding.
Individual/Family Outreach: As you may recall, The RYR-1 Foundation hosted the first ever RYR-1 International Family Conference in July 2016, held in Baltimore. In October 2017, we announced details of the second RYR-1 International Family Conference, which will take place on July 13-15, 2018 in Pittsburgh, PA. For many attendees, this will be the first opportunity to meet someone else with their rare condition. It will also be an opportunity for attendees to hear lectures and discuss their condition with some of the world's leading experts in RYR-1.
Education: The RYR-1 Foundation provides educational resources, primarily through our website, to assist both medical and non-medical audiences. The resources include reproduction of important articles from the medical literature as well as numerous online lectures. I am particularly proud of an online interview we did in October 2017 with Dr. Sheila Riazi, an internationally recognized expert in Malignant Hyperthermia (MH); MH is a potentially fatal reaction to general anesthesia known to occur in individuals with RYR1 mutations. For undiagnosed and recently diagnosed individuals/families and their physicians, the lack of easily accessible information had previously been a source of confusion and anxiety.
Of course, none of these accomplishments would ever have been possible without our donors, board of trustees, and volunteers. So, thank you again for your help! Many challenges and opportunities await, and your recent support will allow us to continue our important work transforming our slogan, Strength In Numbers, into a reality.
With sincere gratitude,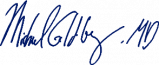 Michael F. Goldberg, MD, MPH
President, Co-Chair of Research, & Co-Founder
The RYR-1 Foundation
P.S. Our extraordinary history is vividly portrayed in "The RYR-1 Foundation Documentary", which you can find here:
www.ryr1.org/documentary. We strongly encourage you to view it.