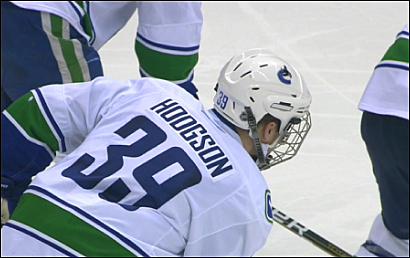 Cody's Story
As the 10th overall pick in the 2008 NHL Draft, Cody Hodgson had a bright career ahead of him in the NHL. Cody played for the Vancouver Canucks, Buffalo Sabres, and Nashville Predators over the course of a six-year career
About Cody
Although Cody had experienced muscle cramps his entire life, he dismissed them as a regular part of being a competitive athlete. As his symptoms became more severe during his professional playing days, he recalled, "I knew I had to get medical help." He experienced many distressing signs and symptoms, including: trouble breathing, heart arrhythmias, severely low blood pressure resulting in "blacking out," and tea-colored urine. The severity of these symptoms culminated in a hospitalization in 2015, when doctors diagnosed him with rhabdomyolysis, a severe and potentially fatal condition related to abnormal muscle breakdown.
During the 2015-2016 season with the Predators, Cody was referred to Dr. Sheila Riazi, an anesthesiologist and one of the world's leading experts on malignant hyperthermia, a muscle condition most commonly due to a mutation in the RYR-1 gene. Dr. Riazi, a member of The RYR-1 Foundation's Scientific Advisory Board, quickly realized that Cody's numerous injuries, severe symptoms, and episodes of rhabdomyolysis were all likely due to RYR-1-related malignant hyperthermia. She ordered genetic testing and a muscle biopsy, which confirmed the diagnosis.
Receiving this diagnosis from Dr. Riazi was a source of tremendous relief for Cody. "You put up with a lot of injuries, and it takes a physical toll when you play hockey," Cody said "but it really scares you when you are not sure what is going on with you."
Dr. Riazi informed Cody of The RYR-1 Foundation and put him in touch with its President, Dr. Michael Goldberg. After meeting with Dr. Goldberg in early 2018 and learning more about  the work of The RYR-1 Foundation, Cody said, "Hopefully, The RYR-1 Foundation and I can help to not only push for a cure, but also help the parents, patients, and families affected by it now so that they can better understand their condition, take the appropriate precautions, and have a treatment available to them."
Cody is on the Board of Advisors of The RYR-1 Foundation and the recipient of the 2022 Advocate of Strength Award from The RYR-1 Foundation.
---
Watch the "Hodgson" Trailer:
Watch a webinar with Cody premiering the "Hodgson" Documentary:
.
---
For photographs from the filming of the "Hodgson" Documentary and "First Look" screening in Toronto